It's time to rewrite that narrative. At Sunday, we know that compelling storytelling holds the key to dispelling misconceptions surrounding the surveying profession.
This is where Modus, the flagship content platform for the RICS, plays a vital role. We know that it's not enough to provide information and data; we must engage our audience with compelling narratives.
We recently ran a feature on last mile logistics – an area where surveyors are making significant inroads, ensuring your Amazon package arrives at your doorstep both swiftly and sustainably. This feature not only underscores the role surveyors play but also sheds light on a lesser-known corner of the profession, unknown to many, surveyors included.
Finding the right story is half the battle, how we tell it is the other. Without effective storytelling, even the most intriguing topics can come across dry and uninspiring. In the case of our feature, we drew inspiration from an unexpected source: the dabbawalas, a time-tested and unique delivery system in Mumbai.
Dabbawalas, the 133-year-old lunchtime delivery system in Mumbai, provide important lessons on how urban supply chains can work more efficiently and sustainably – all with a near zero fail rate. Masters of their craft, dabbawalas are committed to delivering goods with precision and speed, using existing infrastructure to maximise their potential and cut down on the emissions they produce.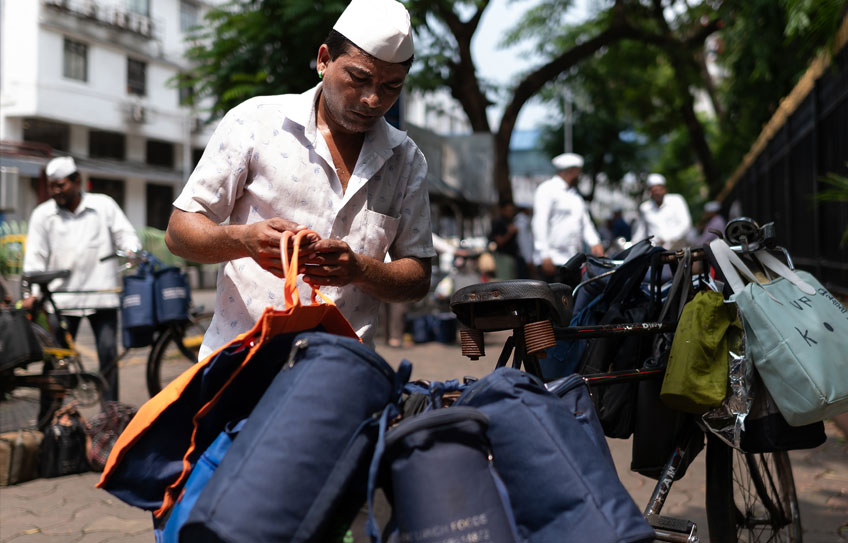 The dabbawalas' enduring legacy and their simple approach to efficient, sustainable urban supply chains provide a fascinating backdrop to the world of surveyors reshaping how goods reach our doorsteps. By weaving their story into the wider surveying context, we not only showcase the pivotal role of surveyors but also highlight an unexplored facet of their profession.
We show Modus readers why the unassuming, low-tech dabbawala is the king of last mile logistics, a world-beating delivery system that has been praised by Harvard Business School.
Read the full dabbawalas feature on Modus here.